Boris Johnson has suggested the government will simplify the testing regime for travellers returning from safer countries because he wants holidays to be "as flexible and as affordable as possible". (See 12.46pm.) He made the comment after his latest lockdown announcements at a news conference last night received an unenthusiastic write-up from some of the Tory-supporting papers.
This is not the first time Johnson has sought to mollify his critics after a lockdown pronouncement landed badly; two weeks ago he did something similar after his comment to the Commons liaison committee about pubs being allowed to exclude people without a vaccine passport triggered a backlash. But Johnson may find that he has little scope for opening up "affordable" foreign travel to any great extent this summer. A Sage report (pdf) published last night showed that the government's scientific advisers are extremely worried about the risk posed by variants from abroad. It said:
SPI-M-O [the Scientific Pandemic Influenza Group on Modelling, Operational] considers slowing importation of new variants, such as B1351 [the South African variant], into the UK a very important priority to allow for the next generation of vaccines to be developed. Whilst new vaccines can be developed, this will likely take many months. Measures to prevent and manage importation risks such as testing individuals, sequencing samples, and maintaining strict quarantine measures for those entering the country will remain important and may delay the spread of variants of concern.
The Stormont assembly is set to be recalled for an emergency debate following days of violence and disorder in parts of Northern Ireland, PA Media reports. Alliance party leader Naomi Long had called for MLAs to debate a motion condemning the recent attacks on police in loyalist areas. The party secured the required support of 30 assembly members for the assembly to be recalled from Easter recess, with a sitting likely to take place on Thursday.
That's all from me for today. But our coverage continues on our global coronavirus live blog. It's here.
Europe's drug regulator has denied it has established a causal connection between the Oxford/AstraZeneca vaccine and a rare blood clotting syndrome, after a senior official from the agency said there was a link, my colleague Jon Henley reports.
Alex Salmond, Scotland's former first minister, has said that voting for his new party, Alba, is in the national interest for independence supporters.
At the Alba campaign launch, he said he would be using his constituency vote to support an SNP candidate because Alba is not putting up candidates in the constituency section of the ballot. But he urged SNP supporters to vote Alba in the list section, where the SNP may do badly because the proportional voting system penalises parties already over-represented in the constituency section. Salmond said:
I'll be voting SNP in my first constituency vote for that reason and I know that tens of thousands of SNP supporters are going to vote for Alba on the list for exactly the same reason. Because it is in the Scottish national interest to do so …

If there were 70 MSPs [out of 129 in the Scottish parliament] supporting independence that would be a majority and I would expect to see that majority moving forward with an independence platform.

If there were 80 MSPs supporting independence, as the polls at the weekend indicated, then we'd be well on our way to a supermajority.

If there were 90 MSPs, which I think is well within our reach for the independence supporting parties, then that would be a bigger supermajority.

The point we're making in the campaign is the stronger the supermajority of MSPs are supporting independence in the Scottish parliament, the more the balance of power will be tilted in Scotland's favour.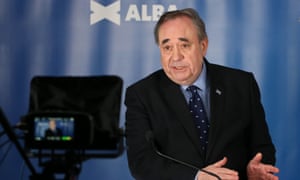 Vaccine hesitancy among minority ethnic Britons has fallen from 22% to 6% in the last two months, new polling from Ipsos Mori suggests.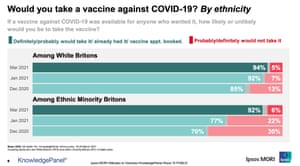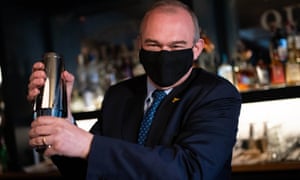 The UK has recorded 20 further deaths and 2,379 new cases, according to the latest update on the government's coronavirus dashboard. Comparing total figures for the past seven days to figures for the previous week, deaths are down by 45% and cases are down by 36%.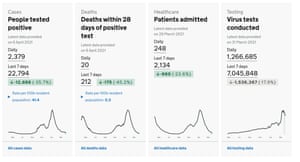 What are less positive are the figures for vaccinations. As this chart shows, the rolling average of daily figures for people getting their first dose has been falling since the middle of last month.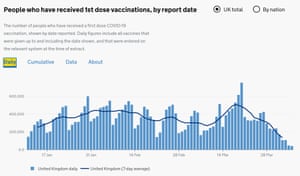 Partly because there is now an increasing focus on giving second doses, but in recent days the rolling average of daily figures for people getting their second dose has been falling too.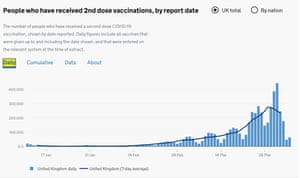 Secondary school and college pupils in England will need to continue wearing face masks in class when they return after the Easter holidays, the Department for Education has said.
But by 17 May it is expected that masks will no longer be needed in classrooms and other communal areas, the DfE said.
Gavin Williamson, the education secretary, said:
On top of the protective measures previously in place such as regular handwashing and ventilation, we introduced face coverings in the classroom for secondary schools and colleges to help reduce transmission in parallel with the introduction of twice weekly testing.

Schools and students have done a great job adapting to Covid secure guidance and working hard to make sure it doesn't impact learning. We obviously all want to get back to facemask-free classrooms and we will do this in line with the latest scientific data while balancing the interests of students, teachers and the wider community.
NHS England has recorded 12 further coronavirus hospital deaths. The details are here.
A week ago today the equivalent figure was 40 deaths.
Steve Baker, who is a Tory libertarian and who is deputy chair of the anti-lockdown Covid Recovery Group, has said that Britain would become "unrecognisable" if Covid-status certificates were allowed. In a statement he said:
Covid-status certification – the requirement to have a domestic vaccine passport or instead to take two tests a week in order to take part in society – would be discriminatory, lead to a two-tier Britain and be entirely incompatible with freedom.

Whether the government imposes this, recommends it or simply stands back and allows it to happen, Covid-status certification would be entirely un-British and our country and values would become unrecognisable.

Spending vast sums of taxpayers' money and people's time testing for a disease we have vaccinated against, and encouraging businesses to discriminate against pregnant women, those with health conditions and allergies, people from ethnic minorities, the disabled and the poor, is not the sort of Britain we should allow the pandemic to turn us into.

After the toll families and friends have paid all over the country in the face of Covid, and after enduring the devastating cycle of lockdowns and restrictions, the last thing we should do is allow Covid to have the victory of changing our country forever into the miserable dystopia of Checkpoint Britain.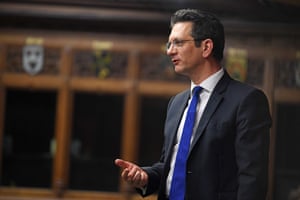 Last night Nick Timothy, who was co-chair of staff for Theresa May in No 10 until the 2017 general election, criticised Sadiq Khan for launching a commission into cannabis decriminalisation when that's not his responsibility as London mayor.
But Timothy did not mention the fact that some Conservatives support the decriminalisation of cannabis (although not Boris Johnson – see 1.44pm). One of them is Timothy himself, who wrote about the topic in his book Remaking One Nation, published last year. Timothy said:
There is a case, too, for the legalisation of cannabis, a drug that has been effectively decriminalised while its supply and distribution remain in the hands of criminal gangs. There are undoubted physical and social harms caused by smoking cannabis, but legalisation would allow regulation, with stronger forms of the drug still prohibited. It would free the police to pursue other crimes and take a tougher approach to harder drugs. Tax revenues raised by the legitimate trade in cannabis could be used in part to fund police resources and treatments for drug addicts.
Most Tories in favour of decriminalising cannabis are either libertarians or liberals. Timothy is neither, and much of his book is taken up with an attack on what he calls "ultra-liberalism". If someone likes him thinks this cause is a good one, then Khan might be on to something …
A total of 31,164,176 Covid-19 vaccinations took place in England between 8 December and 5 April, according to NHS England data, including first and second doses, which is a rise of 73,886 on the previous day.
As PA Media reports, NHS England said 26,765,865 were the first dose of a vaccine, a rise of 19,826 on the previous day, while 4,398,311 were a second dose, an increase of 54,060.
Anthony Wells from YouGov has a good analysis of the Hartlepool poll (see 12.17pm) on his UK Polling Report blog. Here's an extract.
The reason the Tories are doing better in Hartlepool than nationwide appears fairly straightforward, and doesn't offer any obviously transferrable lessons. In Britain as a whole the Brexit party got 2% at the 2019 election. In Hartlepool they got a very healthy 26%. That vote has almost completely vanished, presumably to the benefit of the Conservatives.

As ever, byelections are extremely unusual beasts that do not necessarily tell much about national politics. Maybe if the actual byelection turns out like this it will be a steer on how other seats with a high level of Brexit party support in 2019 may go … but then, come the actual byelection we'll have a glut of other data from the local, Scottish, Welsh, mayoral and London elections due to be held on the same day, so hopefully we won't be trying to desperately read too much into one single byelection.
In a New Statesman blog Stephen Bush says the Survation findings may be less significant than they look. Here's an extract.
Equally importantly, when constituency polls get it wrong, they have tended to do so in fairly predictable ways. They tend to over-count the most politically engaged voters …

That makes it hard to draw any valuable lessons from Survation's latest poll, because the trends it captures (the Conservative party gaining votes due to the end of the Brexit party as a meaningful electoral force, Labour gaining votes on 2019) are ones we already know exist. What we don't know is which one of those trends is going to be more important in May 2021 in Hartlepool, let alone July 2023 or May 2024, the two most likely dates for the next general election.
And here is some more comment on the poll from experts and commentators.
From Jonathan Hopkin, a politics professor at the LSE
From Paula Surridge, a political sociologist at Bristol University
From the FT's Stephen Smith
From James Johnson, a former No 10 pollster
From Luke Cooper, an academic at the LSE
And here is a thread on the poll from Carl Shoben from Survation.
Earlier, in the post about the Survation polling from Hartlepool (see 12.17pm), I said the poll did not seem to be subject to the normal weighting. In a thread on Twitter starting here Damian Lyons Lowe said the results were weighted – but not by previous vote recall, because people seem to have forgotten voting for the Brexit party.
At a briefing this morning Shai Weiss, the Virgin Atlantic chief executive, said people should be able to return to the UK from "green list" countries without having to get testing. Echoing the affordability concerns raised by the head of easyJet – concerns Boris Johnson later said he shared (see 12.46pm) – Weiss said:
We can't have a prohibitively expensive testing system that puts businesses, people and families off travelling.

Passengers travelling to and from 'green' countries should be able to do so freely, without testing or quarantine at all, and vaccinated passengers travelling to and from 'amber' countries should not face testing or quarantine.

Other than for 'red' countries, we do not believe quarantine is the answer for controlling the spread of the virus.
Weiss also said destinations that should be on the "green list" for international travel from 17 May should include the US, Israel and the Caribbean.
The Downing Street lobby briefing is over. Here are the main points.
The prime minister has spoken about this on many occasions. Illicit drugs destroy lives and he has absolutely no intention of legalising cannabis, which is a harmful substance … His approach will not be changing.
When it was put to Stratton that Khan was wasting his time by holding his review in the light of the PM's views, she replied:
That is correct. Sadiq Khan will know that the policy on controlled drugs is a matter for the UK government. It is not a matter for his office.
Stratton also defended Johnson's decision to use his press conference yesterday to make a party political point attacking Khan. His comments were contentious because the press conferences are carried live by the BBC and Sky News on the basis that they are about coronavirus, and not being used for party advantage during an election period. But Stratton said Johnson was just responding to a direct question.
No 10 was unable to define what would count as an "essential shops" – after its policy document (pdf) published last night said these shops would not be allowed to require customers to show Covid-status certificates. These are from my colleague Aubrey Allegretti.
Asked what was driving the violence, the spokesman said it was completely unacceptable and that it was not for him to speculate on the causes. Asked if it was connected to concerns about the Northern Ireland protocol, the spokesman said the government was working with the EU to address some of the concerns about it.
Stratton refused to discuss why Sir Alan Duncan, who was Johnson's deputy when Johnson was foreign secretary, has described Johnson in diaries serialised at the weekend as a "selfish, ill-disciplined, shambolic, shameless clot". She said she would not comment because the diaries were written before Johnson became PM.
Boris Johnson has also welcomed the news that the Valneva vaccine is producing a strong immune response in trials. (See 11am.)
At her briefing Nicola Sturgeon, Scotland's first minister, also announced that for the fourth day in a row the country has recorded no further coronavirus deaths.
She said there were 196 coronavirus patients in hospital in Scotland – 19 fewer than on Thursday last week, which is when a figure for hospital cases was last published.
And she said 259 people had tested positive in the last 24 hours. Those results accounted for 2% of all tests carried out. A week ago today the equivalent figure was 411 new cases, and a positivity rate of 2.8%.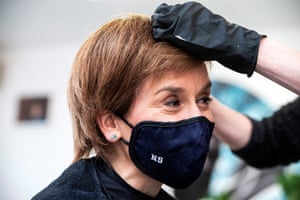 Source: https://www.theguardian.com/politics/live/2021/apr/06/uk-covid-live-labour-hardens-opposition-boris-johnson-digital-id-card-covid-passports-